Many flowers are colored by a pigment called anthocyanin. Discovery of a new protein that increases the efficiency of the production of anthocyanin to darken the color of flowers was achieved by NIBB's Dr. Yasumasa Morita and Asst. Prof. Atsushi Hoshino as a collaborative effort with the Suntory Global Innovation Center Ltd. and the National Agriculture and Food Research Organization (NARO). These results were published in "The Plant Journal" on March 14.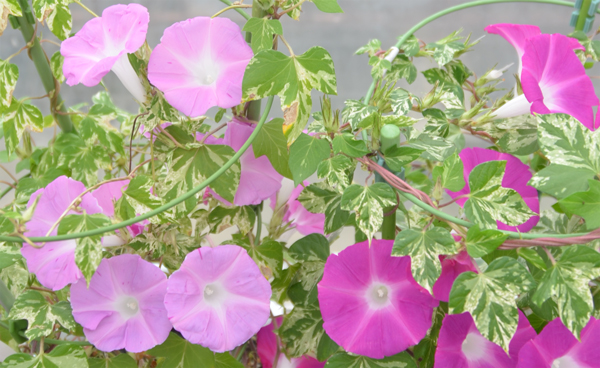 Fig1. Mutant morning glory without EFP protein (left) Wild type morning glory (right)
Research Background:
Anthocyanin is contained in flowers and fruit, and is a pigment that displays a range of color from blue to red. Further, anthocyanin is a type of polyphenol, one of the flavonoids, whose antioxidant effects are well-known. The depth of color of the flower is determined by the amount of anthocyanin; the color becomes more vivid and deeper the more it has. With the aim of elucidating the mechanisms of flower color development, Dr. Hoshino's group was conducting research using morning glories.

Research Results:
It has been known that the morning glory is a plant in which mutations are likely to occur.
The research group found a mutant morning glory with reduced amounts of anthocyanin whose flowers were paler in color (Figure 1, left), examining this mutant flower in comparison to the wild type (Figure 1, right) they began exploring the proteins the wild type was creating.
As a result, a protein that increases anthocyanin production efficiency, leading to a darker color in the flowers, was found and named EFP (Enhancer of Flavonoid Production). In comparison to plants with in which the function of EFP was suppressed, EFP substantially increased the production efficiency of anthocyanin. The research group has also shown that EFP is not only also present in morning glory of the Convolvulaceae family, but also in the garden plants petunia of the Solanaceae family, and the torenia of the Lindernia family as well, and suppression of the function of EFP also causes these plants to bloom lighter colored flowers. From this it has been clearly shown that EFP works the same in a wide variety of plant species (Figure 2). In addition, it was found that the EFP not only increased the efficiency of anthocyanin production, but it also enhanced production of other colorless flavonoids (flavonols and flavones).

Fig.2 A Petunia (left) and Torenia (right) that had their color thinned by suppressing the function of EFP. In both cases the flowers on the left are the same flowers before having their EFP suppressed.
Future Prospects:
By advancing the study of the EFP protein, we can potentially understand how to optimize the production of substances such as flavonoids in plants. Further, by increasing or decreasing the content of anthocyanin and flavonoids, it is expected that this can be applied to developing varieties of flowers and fruit having new value.
The Plant Journal
"A chalcone isomerase-like protein enhances flavonoid production and flower pigmentation"
Yasumasa Morita, Kyoko Takagi, Masako Fukuchi-Mizutani, Kanako Ishiguro, Yoshikazu Tanaka, Eiji Nitasaka, Masayoshi Nakayama, Norio Saito, Takashi Kagami, Atsushi Hoshino, and Shigeru Iida