Location
Location
Surrounding Neighborhood
The National Institute for Basic Biology, is located in Okazaki, Aichi Prefecture. It is about a 30-minute train ride from Nagoya. Located on a hill near Meitetsu Higashi Okazaki station, the Institute is positioned in a quiet residential area. There is also a student dormitory for foreign students (Since there are a limited number of rooms available please check with your professor at the time of your test if any rooms are open). In addition, close to the Institute there are a large number of private apartments; rent is about 30,000 to 50,000 yen a month. The Institute's parking area is also available for those graduate students who wish to commute. A large shopping center is conveniently located close by.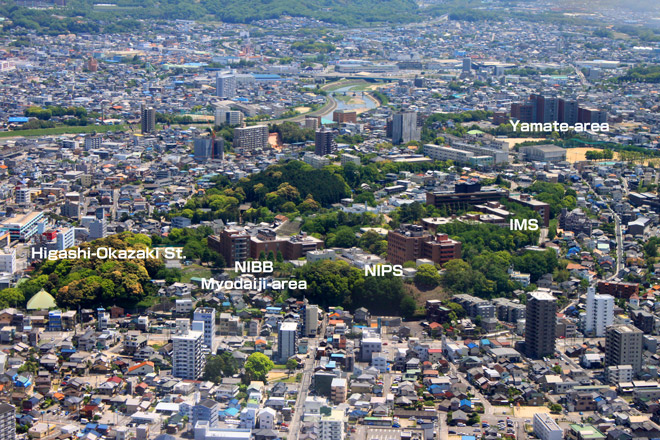 Aichi Prefecture, Okazaki City
Okazaki City is a medium-size city of about 370,000 people. With many public works such as large libraries, museums, and parks Okazaki is a comfortable place to live. Okazaki is known as the birthplace of the first shogun of the Tokugawa Shogunate, Tokugawa Ieyasu, and contains many historical sites, such as Okazaki Castle and the famous Buddhist temple 'Daijūji'. Every April the Okazaki Cherry Blossom Festival opens in the area around the castle and Samurai parades and re-enactments can be seen under the falling Sakura petals. A two hour fireworks display is held in August every year, and you can enjoy the fireworks from the roof of the Institute.