Plof. Mitsuyasu Hasebe of NIBB's Division of Evolutionary Biology has received the Jeanette Siron Pelton award of the Botanical Society of America for his highly regarded work driving forward research in the evolutionary processes of form development in mosses.
The Pelton Award is given "for sustained and creative contributions in experimental plant morphology" and honors the memory of Dr. Jeanette Siron Pelton, an inspiring teacher whose special field was plant morphogenesis.
This year the Pelton Award Committee unanimously selected Dr. Hasebe, pointing out that he has maintained an extraordinary level of productivity in a range of botanical subdisciplines during his carrier, ranging from the early influential molecular analyses of the phylogenetic relationships of major lineages of land plants, to developing the leading research group examining the evolution of morphology in ancient lineages of plants.
The committee stated:
"Mitsuyasu Hasebe's work is of the highest order in the fields of plant phylogenetics and development, and he has 'pushed the envelope' of our understanding of plants not once, but multiple times. Accordingly, his papers have appeared, and continue to appear, in the best journals, and the impact his work is having on others is immense."
The award was announced at the 2013 Botanical Society of America meetings. Dr. Hasebe will give a lecture on the topic of his research at the 2014 Botanical Society of America meeting.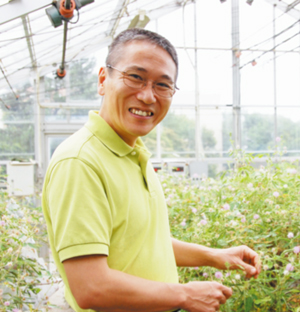 Plof. Mitsuyasu Hasebe