Behavior analyzer (Small fish Behavior analyzer)
---
Animal behavior measurement system Dipp-AAM and its software (Dipp-AAM ver1.1.1.0).
Place: fresh water 4th Lab. in Myodaiji
Date of installation: Mar. 2014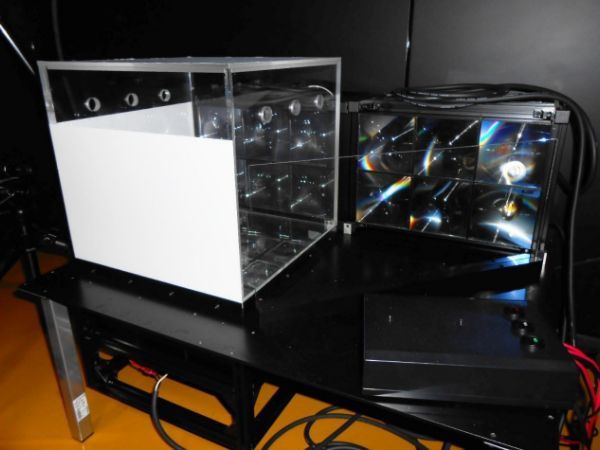 Product overview
A device and software that records and edits the three-dimensional position coordinates of an animal in space by tracking and recording silhouettes by infrared light. (DITECT)
Specification
・OS: Windows 7 Professional 64bit
・CPU: Intel Core i5, 3.40 GHz
・RAM: 32GB
・Compatible capture board: DITECT DPX-CLM100 (PCI-EXPRESS x1) x2
・Measurement camera: SONY XCL-C32 (monochrome) x3
・Observation camera: SONY XCL-C32 (monochrome) / XCL-C32C (color) x1
・Acrylic tank (Thickness: 1cm, Inside 30cmx30cmx30cm [Later referred to as 30cm water tank])
・Projection screen: Tamiya PLA-PAPER (Thickness: 0.1mm)
Example of use
・Simultaneous tracking of three adult fish (body length 20 mm or more) (DITECT Inc. research, future test planned).
・A 15 cm water tank is installed in the 30 cm water tank as follows, and it is possible to analyze the behavior of one medaka with a body length of approximately 13 mm and a weight of approximately 30 mg or more.
+Acrylic board for raising the bottom
+Acrylic water tank (Thickness: 3mm, Inside 15cmx15cmx15cm [15cm water tank])
+water (about 3L)
+medaka
+lid (Use PLA-PAPER directly)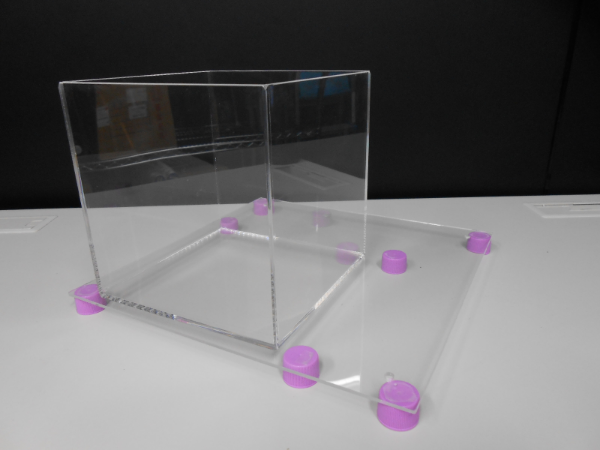 Actual analysis screen
・Save the (x,y,z) coordinates of the action locus as a CSV file and perform Excel analysis according to the purpose on your own PC.
Contact
E-mail: koudou [at] nibb.ac.jp
person in charge: SAKAMOTO, Joe