Investigation of the mechanisms and evolution of light sensing in cnidarians
Light dominates the life of most organisms. Sunlight acts as a key regulator for various functions including photosynthesis and circadian clock control. Moonlight is important for synchronous gamete release in many marine animals. Cnidarians, including corals and anemones are basal, aquatic animals with immense ecological importance. Notably coral reefs are the most biodiverse marine ecosystems. Their productivity depends on a functional symbiosis between reef-building corals and photosynthetic dinoflagellates of the Symbiodiniaceae family, which transfer nutrients to their coral host providing a source of fixed carbon in oligotrophic environments.
In this COS-NIBB joint project, we aim to dissect key molecular mechanisms underlying light sensing in symbiotic cnidarians and how it is used to adapt to the environment. We are using the sea anemone, Aiptasia sp. (
Exaiptasia diaphana
) as a model for corals and conduct research to reveal the molecular mechanisms of light sensing focusing on the evolutionary conserved photoreceptor "opsin". In addition, we will establish a method of gene function analysis using genome editing technology or gene silencing techniques in the sea anemone aiming to elucidate the mechanisms of light response by opsin. Understanding how symbiotic cnidarians perceive light to synchronize sexual reproduction and behavior will provide key insights into its evolution and ecology, a prerequisite to combat the decline of corals through climate change which threatens reef ecosystems worldwide.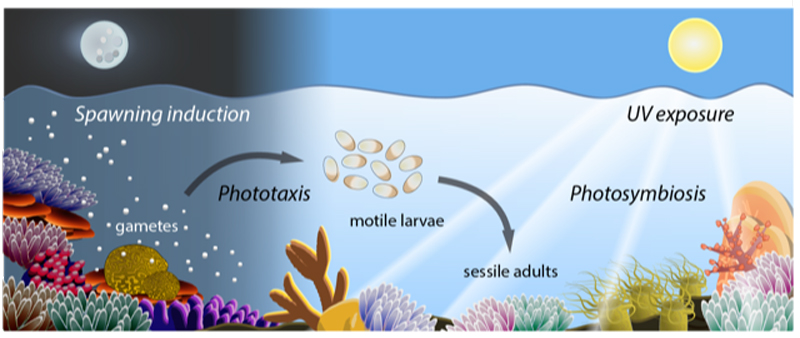 Figure 1: Life of corals is dominated by light. (OPTIONAL: Moonlight is used to synchronize gamete release. Motile larvae use light cues to find a suitable location to settle down and start a sessile lifestyle. Sunlight powers the photosynthesis of the corals' symbionts which provide essential nutrients to their hosts. At the same time, corals need to protect themselves from high UV radiation.) In this project, we will analyze the molecular mechanisms of light-perception in corals to better understand how they adapt to their light-dominated environments.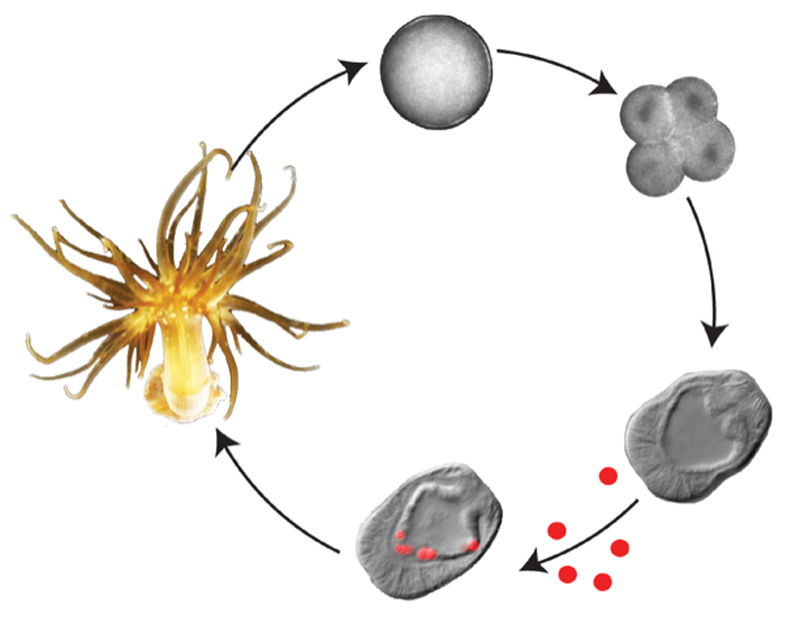 Figure 2: Aiptasia is tropical marine sea anemone that we use as a model for corals. Aiptasia recapitulates essential light-driven mechanisms including moon-light induced spawning, phototaxis of motile larvae and photosymbiosis with photosynthetic dinoflagellates (depicted in red).