Valves are essential structures in the cardiac and lymphatic systems, ensuring proper circulation of the blood and the lymph. However, little is known how valve formation is accomplished in the body. A team led by biologists at The National Institute for Basic Biology (NIBB), The Scripps Research Institute and Howard Hughes Medical Institute, USA, has discovered that lymphatic valve formation requires PIEZO1: a mechanically activated cation channel.
The team previously reported that human patients with
PIEZO1
loss-of-function mutations are associated with congenital lymphedema. However, it has remained unclear how PIEZO1 is involved in the development or the function of the lymphatic vasculature. By analyzing mouse models lacking PIEZO1 in endothelial cells, the team has revealed that PIEZO1 is required for lymphatic and venous valve formation. "Our study clarified a previously unknown role of mechanotransduction in the body", said Keiko Nonomura, PhD, Assistant Professor of Division of Embryology, NIBB and the first and co-corresponding author of the study. While there is an increasing interest about mechanotransduction involved in tissue development or function, its precise mechanisms or roles are not fully elucidated in many organs. Nonomura says, "We are willing to continue the research in order to further elucidate how PIEZO1-mediated sensing of mechanical forces is incorporated in valve morphogenesis"
The above study was published in Proceedings of the National Academy of Sciences of the United States of America, the online Latest Articles the week of November 26, 2018. This project was supported by AMED-PRIME (Japan Agency for Medical Research and Development) and JSPS Grant-in-Aid for Research Activity Start-up.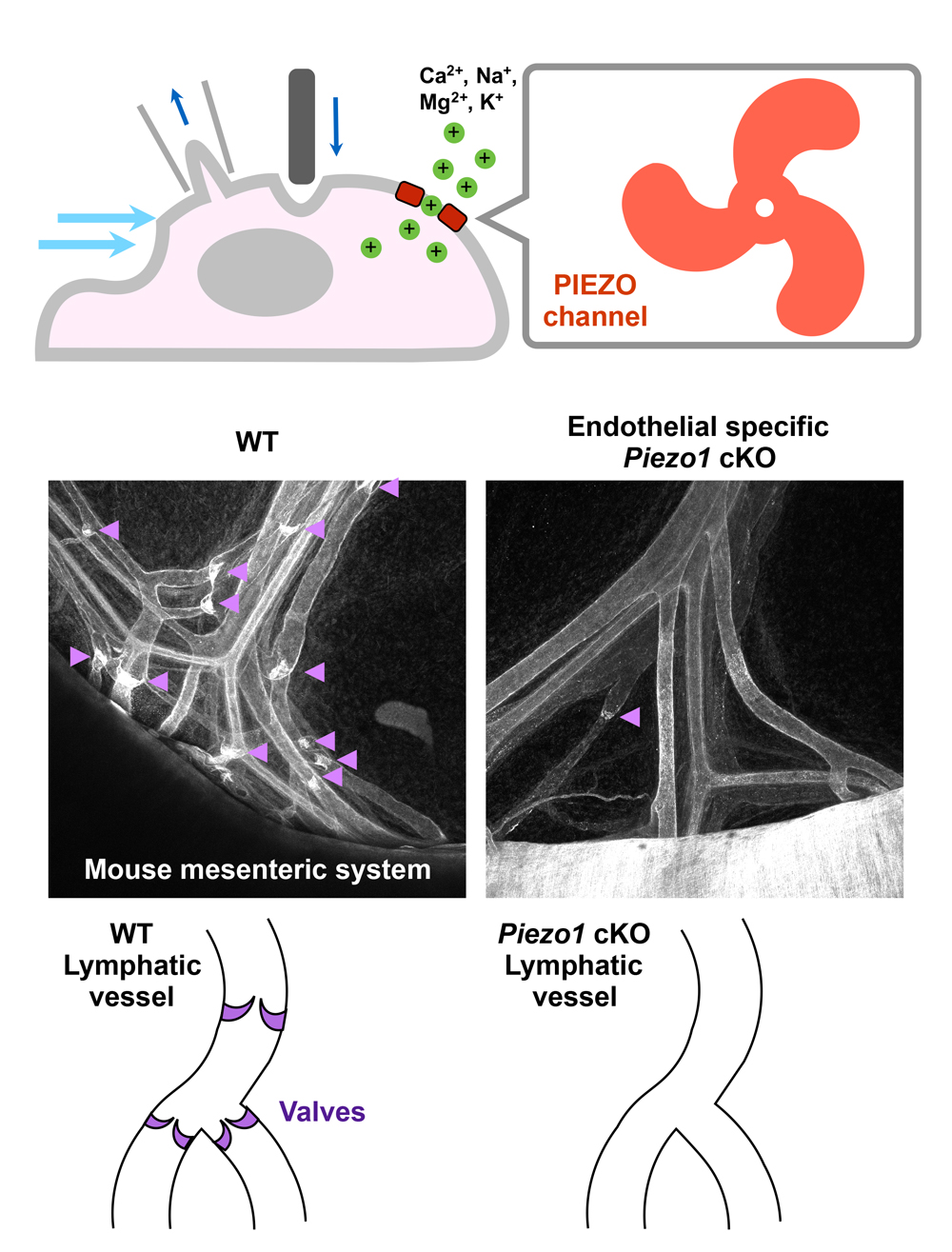 Paper Information:
Proceedings of the National Academy of Sciences of the United States of America "Mechanically activated ion channel PIEZO1 is required for lymphatic valve formation" by Keiko Nonomura, Viktor Lukacs, Daniel T. Sweet, Lauren M. Goddard, Akemi Kanie, Tess Whitwam, Sanjeev S. Ranade, Toshihiko Fujimori, Mark L. Kahn, Ardem Patapoutian
DOI:
10.1073/pnas.1817070115