Welcome to Germ Cell Biology at NIBB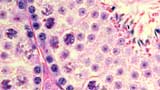 Mammalian spermatogenesis represents a highly potent and robust stem cell system. Decades of research, including detailed morphological examinations, post-transplantation repopulation, and in vitro culture, have made it one of the most intensively studied mammalian tissue stem cell systems. However, the nature of the stem cells, as well as their niche, remains largely unknown in the context of homeostatic spermatogenesis. The Division of Germ Cell Biology, which was launched in 2008, aims to fully understand the mammalian spermatogenic stem cell system, mainly using the mouse system. Being a brand-new research division of NIBB, our overall research view and current foci of interests will be described. These include 1) the cellular nature of the stem cell compartment and their behaviors in the in homeostatic spermatogenesis, and 2) the anatomical basis and function of the mammalian spermatogenic stem cell niche.
News
"A truncated form of a transcription factor Mamo activates vasa in Drosophila embryos." was published in Communications Biology on November 22nd, 2019.

"Competition for Mitogens Regulates Spermatogenic Stem Cell Homeostasis in an Open Niche." was published in Cell Stem Cell on December 21st, 2018.

Dr. Nakamura was promoted to Assistant Professor of Hioroshima University on October 1st, 2017.

"SHISA6 confers resistance to differentiation-promoting Wnt/beta-catenin signaling in mouse spermatogenic stem cells." was published in Stem Cell Reports on February 10, 2017.

Dr. Nakagawa has joined us as Assistant Professor on August 1st, 2015.

"Hierarchical differentiation competence in response to retinoic acid ensures stem cell maintenance during mouse spermatogenesis." was published in Development on May 1, 2015.

Dr. Hara was promoted to Associate Professor of Tohoku University on April 1st, 2015.

"Mouse spermatogenic stem cells continually interconvert between equipotent singly isolated and syncytial states. "was published in Cell Stem Cell on May 2, 2014.

The 58th/60th NIBB Conference "Germline -Specification, Sex, and Stem Cells-"

Yu Kitadate's study has been chosen as a Developmental Cell's Paperpicks article. Link to Cell Press URL for the video clip.