Past News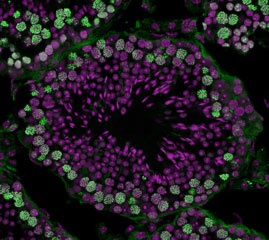 We attended Cold Spring Harbor Laboratory Meeting "Germ Cells" held from September 29th to October 2nd. Professor Yoshida acted as an organizer, and Dr. Kitadate, Dr. Nakagawa, Dr. Sato and Mr. Hirano gave poster presentations.
This photo we provided was used on the cover of the Abstract Book.

"A truncated form of a transcription factor Mamo activates vasa in Drosophila embryos." was published in Communications Biology on November 22nd, 2019.
"Competition for Mitogens Regulates Spermatogenic Stem Cell Homeostasis in an Open Niche." was published in Cell Stem Cell on December 21st, 2018.
Dr. Nakamura was promoted to Assistant Professor of Hiroshima University on October 1st, 2017.
"SHISA6 confers resistance to differentiation-promoting Wnt/beta-catenin signaling in mouse spermatogenic stem cells." was published in Stem Cell Reports on February 10, 2017.
Dr. Nakagawa has joined us as Assistant Professor on August 1st, 2015.
"Hierarchical differentiation competence in response to retinoic acid ensures stem cell maintenance during mouse spermatogenesis." was published in Development on May 1, 2015.
Dr. Hara was promoted to Associate Professor of Tohoku University on April 1st, 2015.
"Mouse spermatogenic stem cells continually interconvert between equipotent singly isolated and syncytial states. "was published in Cell Stem Cell on May 2, 2014.
The 58th/60th NIBB Conference "Germline -Specification, Sex, and Stem Cells-"
Yu Kitadate's study has been chosen as a Developmental Cell's Paperpicks article. Link to Cell Press URL for the video clip.
"Mouse Germ Line Stem Cells Undergo Rapid and Stochastic Turnover" was published in Cell Stem Cell on August 6, 2010.

August 1, 2010. Dr. K. Hara took up Assistant Professor with this laboratory.
June 21, 2010. Dr. R. Sugimoto received the Best Presentation Award for an excellent presentation at 43rd Annual Meeting for the Japanese Society of Developmental Biologists.
"Functional Hierarchy and Reversibility within the Murine Spermatogenic Stem Cell Compartment" was published online in Science on March 18th 2010.