RESEARCH: Evolution of long lasting sporophyte stem cells and branching
Graduate students are welcome to join.
Long-lasting stem cells and branching in the sporophyte generation are conspicuous characters evolved in the vascular plant lineage after the divergence from bryophytes. The evolution made sporophytes become larger. A sporophyte stem cell of the moss Phsycomitrella patens divides approximately ten times without any branch formation. However, deletion of CURLY LEAF gene caused long-lasting stem cell activity, which results in a longer sporophyte. Unexpectedly, the longer sporophyte produced additional stem cells, which became new branches. We are interested in the reason why extra stem cells are formed when the size of a sporophyte become longer.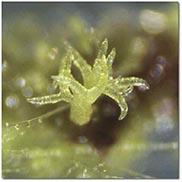 Sporophyte-like body with numerous branches in clf deletion mutant line.