RESEARCH: Evolution from unicellular to multicellular organisms (Mechanisms of asymmetric cell divisions)
In collaboration with Assoc. Prof. Tomomichi Fujita in Hokkaido Univ.
Graduate students are welcome to join.
The first evolutionary step from a unicellular to a multicellular organism appears to involve the formation of two different types of cells from a single cell via asymmetric cell division. Studies on the molecular mechanisms of asymmetric cell division should give insights on such evolution.
(continuing)
The first cell division of a protoplast isolated from the protonemata of the moss P. patens is asymmetric regarding its shape and nature, and gives rise to an apical stem cell and a differentiated non-stem cell. A systematic overexpression screening for genes involved in the asymmetric cell division of protoplasts in P. patens was performed. Using 250,000 expressed sequence tags (ESTs), we created eight full-length cDNA libraries to cover most of developmental stages. Approximately 15,000 full-length clones were catalogued. We eliminated housekeeping genes, such as those involved in photosynthesis, respiration, and synthesis of secondary compounds. We used the remaining 3,000 full-length cDNA clones as materials for overexpression screening (Fujita et al. 2003 in New Frontiers in Bryology). Individual cDNAs were subcloned under a constitutive promoter and introduced into the protoplasts of P. patens for transient expression. We observed and categorized phenotypes of the regenerating protoplasts. We identified 58 cDNAs, whose overexpression caused the defects in asymmetric cell divisions. Dr. Tomomichi Fujita, an assistant professor at the time, directed this project. He was promoted to an associate professor at Hokkaido University, and my laboratory has collaborated with him to continue this work.
Fujita, T., Nishiyama, T., Hiwatashi, Y. and Hasebe, M. 2003. Gene tagging, gene- and enhancer-trap systems, and full-length cDNA overexpression in Physcomitrella patens. p. 111-132. In New Frontiers in Bryology:Physiology, Molecular Biology & Applied Genomics (eds. by Wood, AJ., Oliver, MJ. and Cove, DJ.), Kluwer Academic Publishers, Netherlands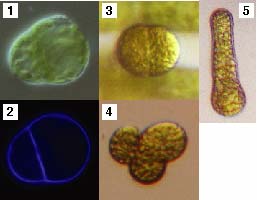 Asymmetric cell division of a Physcomitrella protoplast. Regular asymmetric cell division (1, 2) and defective cell division with overexpression (3, 4, 5). Cell wall of the cell in (1) is visualized with calcoflor in (2).