Japanese
| English
Introduction
The National Institute for Basic Biology (NIBB) is a sub-center of the National BioResource Project (NBRP) for work on Morning Glories. Our group works with the core institute at Kyushu University to gather, preserve, and distribute mutant lines for flower pigmentation and various DNA clones. Please contact Dr. Atsushi Hoshino for information on receiving or depositing resources. Please note our distribution is aimed only at those working within research institutes. Non academics should contact the core NBRP institute directly.
Contact: hoshino☆nibb.ac.jp (Please replace ☆ with @) 


Core Institute:Kyushu University Faculty of Science (Morning Glory Page, Japanese) 

NBRP Information Site:Morning Glory Database
NBRP Information Site:Morning Glory Project Information
NBRP Publication Database:Research Resource Circulation

Mutant Lines (Morning Glory Seeds)
We have 150 lines, of mainly Ipomoea nil pigmentation mutants, in storage. We also maintain and distribute wild-type I. nil, and I. purpurea、I. tricolor, and other Ipomoea lines. Most of these strains have actively been used in research, therefore many of the mutant pigmentation genes have already been isolated and cloned.
Line list 1 (Japanese)
Lin2 list 2 (NBRP Site)
Phenotypes
EST Clones
We used a cDNA library from seedlings, and 3 cDNA libraries from flowers and buds of wild-type I. nil, also known as 'Tokyo Kokei Standard', to obtain EST sequences, and are now preserving over 60,000 EST clones. The DDBJ and other public database accession numbers for the 25,899 EST sequences obtained from flower and bud full-length cDNA are: BJ553078 to BJ578976. Accession numbers for the 36,336 EST sequences obtained from seedlings are: CJ736987 to CJ773322.
EST Database:http://ipomoeanil.nibb.ac.jp/
BAC Clones

We are preserving 105,216 BAC clones created from the 'Tokyo Kokei Standard Line'. This covers the 800~1000 Mb Morning Glory genome 9 or 11 times. We also offer a 3D DNA pool for screening BAC DNA for PCR. With as few as 58 PCR procedures we can obtain our desired clone.
Expression vectors

Flower petal specific expression vectors were deposited by Dr. Shiratake of Nagoya University. For further details.
Distribution Procedures

For ordering information please contact Dr. Hoshino. After discussing your research goals appropriate recourses will be suggested. When the order is placed we will ask for a Material Transfer Agreement (MTA) to be filled out. Also handling & shipping remuneration will be requested (only for actual expenses).
MTA (Japanese, Wrod File)
MTA(English, Word File)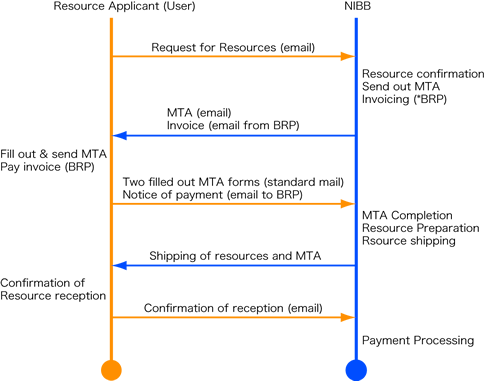 Resource Distribution Process
*BRP:BioResource Payment (NPO science education and training payment settlement system, Japanese only)
Cost Breakdown

As of April 2010 we have begun requesting remuneration of the actual costs of consumables (containers, tubes, etc.), personnel expenses (packaging, shipping, MTA processing) and postage. The actual requested resources are supplied at no cost. Please pay the costs listed on the following chart through the BRP (BioResource Payment) by credit card (credit card fees are the responsibility of the payee). We also now accept payment via bank transfer, with deferred payment as a possible option (bank transfer fees are the responsibility of the payee).
Cost Breakdown

Handling Fees (¥)

Processing Fees (¥)

Total (¥)

Seeds
Handling fees per request

750

1,050

1,800

Per line

150

28

178

DNA Clones
Handling fees per request

1,900

1,050

2,950

Per clone

500

95

595

Supply expense (per 10 clones)

1,300

247

1,547

Screening Kits
Handling fees per request

1,100

1,050

2,150

Per kit

7,300

1,387

8,687

Shipping Materials
Envelope (S) per envelope

100

5

105

Envelope (M) per envelope

100

5

105

Envelope (L) per envelope

150

8

158

Envelope (XL) per envelope

250

13

263

*Shipping Costs

Actual Cost

5.5% of Actual Cost

** 105.5% of Actual Shipping Costs
*Packages sent overseas are shipped via Express Mail Service.
**Round fractions down.
Eg: If 10 seed lines are requested there would be a ¥1800 fee for the application, a ¥1780 fee for the 10 lines, and a ¥105 fee for shipping materials, (a medium sized envelope) totaling ¥3,685, in addition to shipping costs (with a 5.5% surcharge)
Supply charge regulations (PDF File, Japanese)
Supply implementation Regulations (PDF File, Japanese))
Actual Cost reimbursement details (PDF File, Japanese)
Depositing Resources
We are actively collecting mutant lines of morning glories and their close relations, as well as various types of DNA clones and other genetically modified lines. We are particularly interested in collecting flower color variant mutant lines. Occasionally, new mutations occur among commercially available morning glories, or lines used in previous research are lost (such as when older garden varieties die out, or cease to be sold on the market). If you are in possession of any such new or lost seed lines, please contact us.
Contact: (MTA Postal Address)
Hoshino Atsushi
National Institute for Basic Biology Nishigonaka-38 Myōdaijicho Okazaki-shi, Aichi-ken, Japan, 444-8585  
Email: hoshino☆nibb.ac.jp (Please replace ☆ with @)
Phone: +81-564-55-7534