Welcome to Germ Cell Biology at NIBB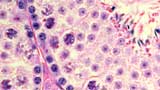 Mammalian spermatogenesis represents a highly potent and robust stem cell system. Decades of research, including detailed morphological examinations, post-transplantation repopulation, and in vitro culture, have made it one of the most intensively studied mammalian tissue stem cell systems. However, the nature of the stem cells, as well as their niche, remains largely unknown in the context of homeostatic spermatogenesis. The Division of Germ Cell Biology, which was launched in 2008, aims to fully understand the mammalian spermatogenic stem cell system, mainly using the mouse system. Being a brand-new research division of NIBB, our overall research view and current foci of interests will be described. These include 1) the cellular nature of the stem cell compartment and their behaviors in the in homeostatic spermatogenesis, and 2) the anatomical basis and function of the mammalian spermatogenic stem cell niche.
News
Dr. Suzuki's paper was selected as the winner of the SRF-Reproduction Prize 2021.
"Transient suppression of transplanted spermatogonial stem cell differentiation restores fertility in mice." was published in Cell Stem Cell on April 13, 2021.
Dr. Suzuki has joined us as Specially Appointed Assistant Professor on April 1st, 2021.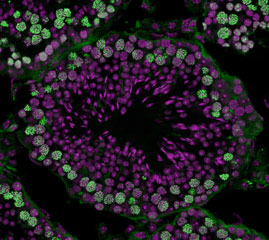 We attended Cold Spring Harbor Laboratory Meeting "Germ Cells" held from September 29th to October 2nd. Professor Yoshida acted as an organizer, and Dr. Kitadate, Dr. Nakagawa, Dr. Sato and Mr. Hirano gave poster presentations.
This photo we provided was used on the cover of the Abstract Book.

"A truncated form of a transcription factor Mamo activates vasa in Drosophila embryos." was published in Communications Biology on November 22nd, 2019.
"Competition for Mitogens Regulates Spermatogenic Stem Cell Homeostasis in an Open Niche." was published in Cell Stem Cell on December 21st, 2018.