研究内容

始原生殖細胞の移動と初期発生に関る分子機構の解析
始原生殖細胞は生命の連続性を唯一担うという重要な役割を持ちます。更に、始原生殖細胞は発生中の胚体内で長い距離を移動し生殖巣に入るという特徴を持ちます。脊椎動物における始原生殖細胞の移動と初期発生に関わる分子機構の包括的理解を進める為に、突然変異体作製プロジェクトにおいて収集した始原生殖細胞の移動や初期発生に異常が見られる突然変異体群(
kamigamo
,
shimogamo
,
naruto
,
kazura
and
yanagi
等)の解析を行っています。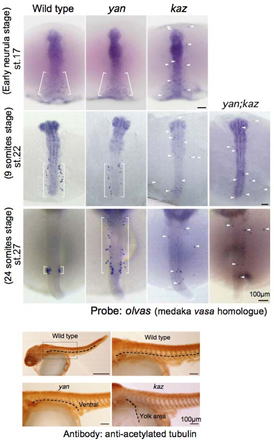 Genetic dissection of migration of primordial germ cells in the medaka
Germ cells are responsible for the sustainability of life over generations in many multicellular animal species. To elucidate the mechanisms underlying the development of primordial germ cells, we identified multiple mutations affecting the migration and development of the primordial germ cells in medaka (
Oryzias latipes
) in a past large-scale mutagenesis screening project and have analyzed a set of them to date. We advance this study to reveal the common mechanisms in the development of the primordial germ cells in the vertebrates using the multiple medaka mutants. We focused on three mutants that have defects in primordial germ cell migration,
kamigamo
,
shimogamo
and
naruto
that were isolated in the screening project. Positional cloning and analysis of the genes carrying the mutations are now in progress. In recent years it has been made clear that the molecular mechanisms involving primordial germ cell migration interacting with the surrounding somatic tissues share a wide contribution to long distance cell migration phenomena such as the neuronal cells migration. Therefore, the findings clarified in this study will contribute to revealing the biological phenomena and diseases connected with long-distance cell migration. In addition, two mutations,
kamigamo
and
shimogamo
, cause cystic pronephric ducts simultaneously with abnormal positioning of the primordial germ cells. Therefore, the analysis of these mutations will be important in giving basal knowledge underlying the mechanisms of human cystic kidney diseases.