The Functional Genomics Facility is a division of the NIBB Core Research Facilities organized jointly by NIBB and NIPS for the promotion of DNA and protein studies. The facility maintains a wide array of core research equipment, ranging from standard machinery (e.g. ultracentrifuges) to cutting edge tools (e.g. next generation DNA sequencers), which amount to 90 instruments in total. The facility is dedicated to fostering collaborations with researchers both at NIBB and other academic institutions worldwide through the provision of these tools as well as expertise. Our current focus is functional genomics. We also act as a bridge between experimental biology and bioinformatics through close consultation and training.

We recently conducted a large scale renovation of the Functional Genomics Facility building, and as part of this, the Visitors Lab and the Visitors Office were re-designed so that visiting scientists can work more effectively during their stay. In 2018, approximately 200 researchers came to use our facility and developed active collaborations, which consequently resulted in 20 co-authored papers published.
Representative Instruments
Genomics
The advent of next-generation sequencing (NGS) technologies is transforming modern biology thanks to ultra-high-throughput DNA sequencing. Utilizing HiSeq1500, NextSeq and MiSeq (Illumina), PacBio RS II and Sequel (PacificBio Sciences), and MinION and GridION (Oxford Nanopore Technologies), the Functional Genomics Facility is committed to joint research aimed at exploring new yet otherwise inaccessible fields in basic biology.

During 2018, we carried out 67 NGS projects in collaboration with researchers from academic institutions throughout the world. These projects cover a wide range of species (bacteria, animals, plants, and fungi) including both model and non-model organisms, and various other applications such as genomic re-sequencing, RNA-seq and ChIP-seq.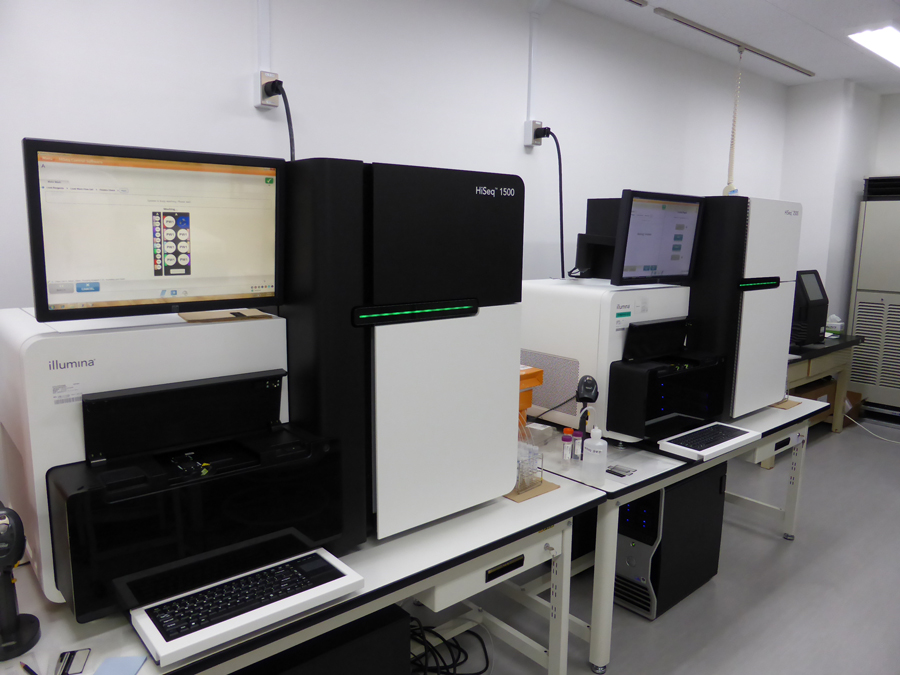 Figure 1. Next-generation sequencer

Proteomics
Three different types of mass spectrometer and two protein sequencers, as listed below, are used for proteome studies in our facility. In 2018, we analyzed approximately 1000 samples with mass spectrometers and protein sequencers.
- LC-MS (AB SCIEX TripleTOF 5600 system)
- LC-MS (Thermo Fisher SCIENTIFIC Orbtrap Elite)
- MALDI-TOF-MS (Bruker Daltonics REFLEX III)
- LC-Q-TOF MS (Waters Q-TOF Premier)
- Protein sequencer (ABI Procise 494 HT; ABI Procise 492 cLC)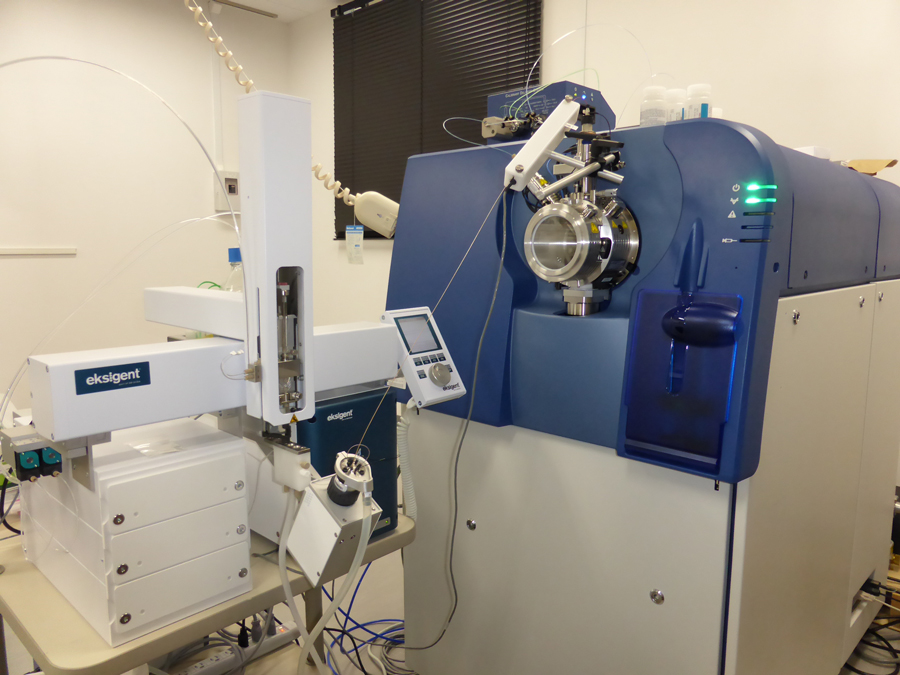 Figure 2. Triple TOF LC/MS/MS System

Other analytical instruments (excerpts)
- Cell sorter (SONY SH800) - Bioimaging analyzer (Fujifilm LAS 3000 mini; GE FLA9000)
- Laser capture microdissection system (Thermo Fisher Scientific Arcturus XT)
- Real-time PCR machine (Thermo Fisher Scientific ABI 7500)
- Ultracentrifuge (Beckman XL-80XP etc.)
- Microplate reader (PerkinElmer Nivo; Hitachi SH-9000Lab)
- Single-cell analysis system (Fluidigm C1)