LABORATORY OF NEURONAL CELL BIOLOGY
Faculty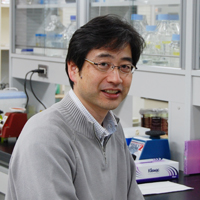 Associate Professor
SHIINA, Nobuyuki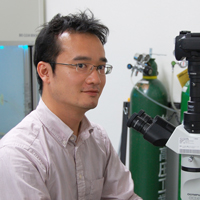 Assistant Professor
NAKAYAMA, Kei
Research Summary
The formation of synapses and neuronal networks are key elements of learning and memory. We are focusing on one of these cellular mechanisms, local translation, which is required for synapse formation, synaptic plasticity, and memory consolidation. RNA granules, macromolecular complexes composed mainly of mRNAs and ribosomes, play central roles in mRNA transport and subsequent local translation at postsynaptic sites in a synaptic stimulation-dependent manner. We have been identifying protein components and mRNA cargoes in RNA granules in order to better understand the molecular networks involved in local translation, and have been characterizing them using techniques of biochemistry, molecular cell biology, and fluorescence imaging. We have also been utilizing knockout mice in order to investigate the roles of the components and cargoes in synapse functions and neuronal network formation.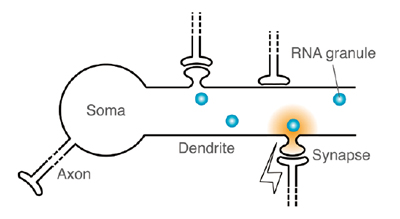 Figure 1: A model for local translation in neuronal dendrites. Specific mRNAs are recruited into RNA granules and transported to dendrites.Translation of the mRNAs is induced locally upon synaptic stimulation, which modifies local postsynapses to regulate synaptic connection and network formation.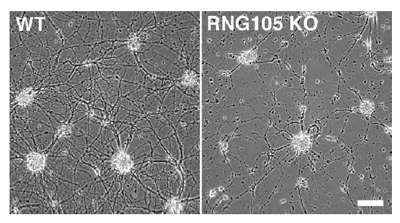 Figure 2: Phase contrast images of primary cultured neurons from wildtype (WT) and RNG105 knockout (KO) fetal brains. RNG105 knockout neurons formed poor networks compared to wild-type neurons. Scale bar, 100 mm.
PhD Program
This laboratory is currently recruiting graduate students.
Selected Publications
Shiina, N., Yamaguchi, K., Tokunaga, M. (2010). RNG105 deficiency impairs the dendritic localization of mRNAs for Na+/K+ ATPase subunit isoforms and leads to the degeneration of neuronal networks. J. Neurosci. 30, 12816-12830.

Shiina, N., Tokunaga, M. (2010). RNA granule protein 140 (RNG140), a paralog of RNG105 localized to distinct RNA granules in neuronal dendrites in the adult vertebrate brain. J. Biol. Chem. 285, 24260-24269.

Shiina N., Shinkura K., Tokunaga M. (2005). A novel RNA-binding protein in neuronal RNA granules: Regulatory machinery for local translation. J. Neurosci. 25, 4420-4434.
Contact
Associate Professor SHIINA, Nobuyuki TEL: +81 564 55 7620 E-mail: nshiina@nibb.ac.jp